Challenges
[
]
Lack of labeled data: According to Resnik (1997)[1]:
"... not only the limited availability of such text at present, but skepticism that the situation will change any time soon. In marked contrast to annotated training material for part-of-speech tagging, (a) there is no coarse-level set of sense distinctions widely agreed upon (whereas part-of-speech tag sets tend to differ in the details); (b) sense annotation has a comparatively high error rate (Miller, personal communication, reports an upper bound for human annotators of around 90% for ambiguous cases, using a non-blind evaluation method that may make even this estimate overly optimistic); and (c) no fully automatic method provides high enough quality output to support the "annotate automatically, correct manually" methodology used to provide high volume annotation by data providers like the Penn Treebank project (Marcus et al., 1993)"
Features
[
]
Approaches
[
]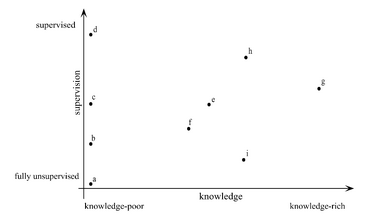 Supervised
[
]
Knowledge-rich
[
]
Algorithms
[
]
Semi-supervised
[
]
Bootstrapping: From Niu et al. (2005)[3]: "bootstrapping algorithm works by iteratively classifying unlabeled examples and adding confidently classified examples into labeled dataset using a model learned from augmented labeled dataset in previous iteration.
Label propagation: Main ref: Niu et al. (2005)[3]. It's not an algorithm to increase training data but to perform classification (i.e. it runs at test time only). It has been found to be more effective than bootstrapping and SVM (Niu et al. 2005).
Enriching WordNet
[
]
Datasets
[
]
See also
[
]
External links
[
]
References
[
]